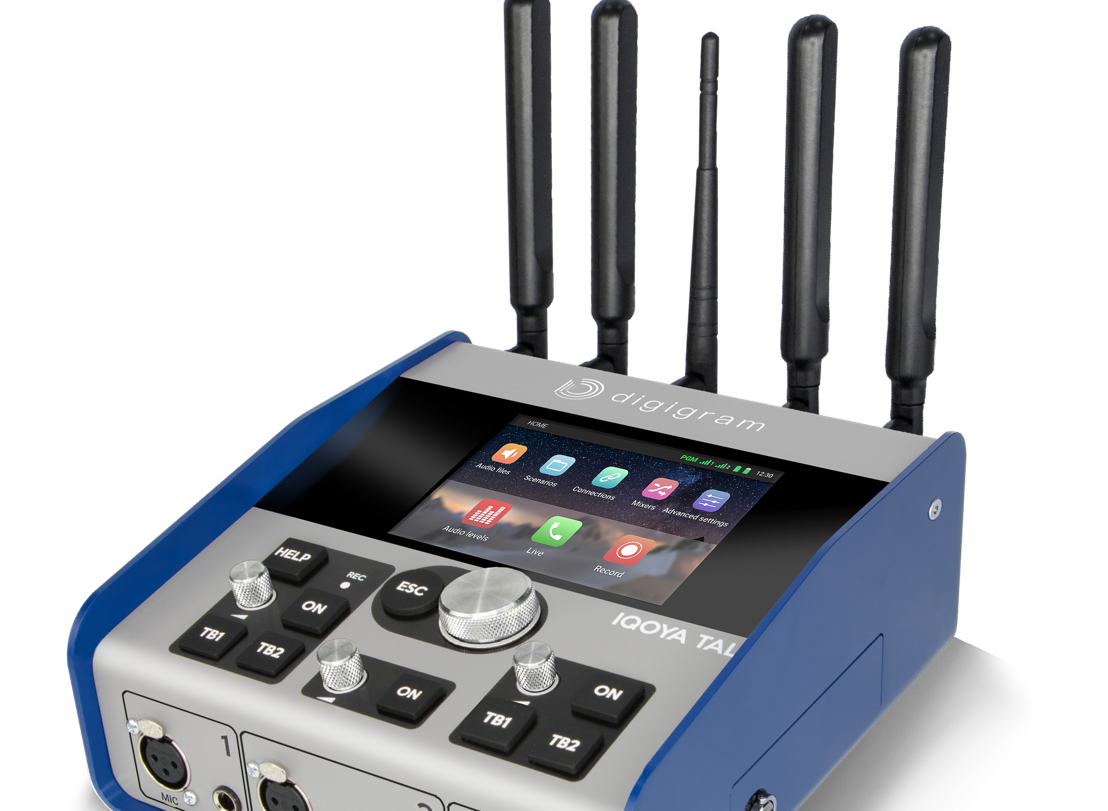 NAB Show NY: Digigram Officially Debuts IQOYA TALK IP Portable Codec, Simplifies Remote Broadcasting
The new codec features the company's proprietary Fluid IP technology
New York, New York, September 26, 2019 – Digigram, manufacturer of leading IP audio solutions, has debuted its new IQOYA TALK, a portable IP audio codec dedicated to live remote broadcasting for both radio and TV. The latest addition to the company's family of IQOYA codecs, IQOYA TALK will be just one of the company's offerings on display during NAB Show New York 2019 at booth N157 in the Jacob K. Javits Convention Center from October 16-17.
Legacy-brand Digigram's new IQOYA TALK features the company's innovative Fluid IP technology offering industry-leading error correction and dual streaming technologies — so users always have the most reliable and robust connections.
"With over 10,000 codecs currently in use, Digigram has been revolutionizing the way broadcasters record and transmit their content over the past 10 years, and the new IQOYA TALK furthers that mission," said Derek Badala, Director of Sales, Americas for Synthax, Digigram's U.S. distributor. "This new portable codec is a best-in-class solution for broadcasters offering, among many other features, a vast number of I/Os, complete remote-control ability and a large number of built-in connectivities."
Audio Over IP
With many large broadcasters recently committing to using IP codecs as their primary means to get audio back to the studio, Digigram has added an easy-to-operate user-interface designed for "non-technicals" to the IQOYA TALK. Furthering its ease-of-use, the IQOYA TALK lets remote reporters perform key actions in just two simple clicks. Live reporting and commentary can be performed along with studio-quality interviews for up to four reporters and guests. Audio content is streamed through a large number of wired or wireless 'last mile' connections.
Boasting the most adaptable software on the market, IQOYA TALK features 11 inputs/10 outputs, an intuitive iPhone/Android hook up, and 3 mic-line inputs and 4 headphone outputs, so users can not only feature a co-host and host, but also a guest and their guest — a big advantage for broadcasters.
A vast number of built-in connectivities are available in the IQOYA TALK, including dual Gigabit Ethernet ports, WiFi connectivity and a dual built-in 3G/LTE/4G module.
Up to 12H autonomy is achieved through two independent hot-swappable batteries.
Digigram will showcase its full line of products at booth N157 during NAB Show New York 2019 from October 16-17, 2019.
For more information on Synthax, visit: https://www.synthax.com/
For more information on Digigram, visit: http://www.digigram.com/
About Synthax, Incorporated
Synthax Inc. is the exclusive USA distributor for RME digital audio solutions, Digigram broadcast audio systems, Appsys digital audio tools, Ferrofish advanced audio applications, myMix personal monitoring systems and ALVA cableware. We supply a nationwide network of dealers with these products for professional audio, broadcast, music industry, commercial audio, theater, military and government applications. For additional information, visit the company online at http://www.synthax.com.

Katie Kailus Public Relations, Hummingbird Media, Inc.