Synthax Unites Audio Community with Virtual 'Extravaganza Pro Audio Days' Event Featuring Performances, Demos & Educational Sessions
To be held September 25–27, the event will feature Synthax- and artist-lead educational webinars designed to help end-users master their audio experience
Fort Lauderdale, Florida, September 16, 2020 — Synthax — distributor of RME audio solutions, Ferrofish audio converters, Digigram broadcast and streaming solutions, Appsys digital audio tools, and myMix personal monitor and mixer — has announced its Extravaganza Pro Audio Days, a free, three-day online event to be held September 25–27 that will feature product demonstrations, educational webinars, artist performances and giveaways. Coinciding with event will be a special 20% discount sale on all RME, Ferrofish and myMix gear open to all shoppers.
"Since we won't be able to gather in person for a while, we wanted to do something special to unite the audio community," said Mathias von Heydekampf, director of Synthax US. "The three-day 'Extravaganza' will include educational sessions designed to teach end-users how to get the most out of their audio, whether that's podcasting, mixing and mastering, or performing live online. Additionally, we will have plethora of artist performances and product demos. We think the event will be a great way to connect with the audio community as a whole."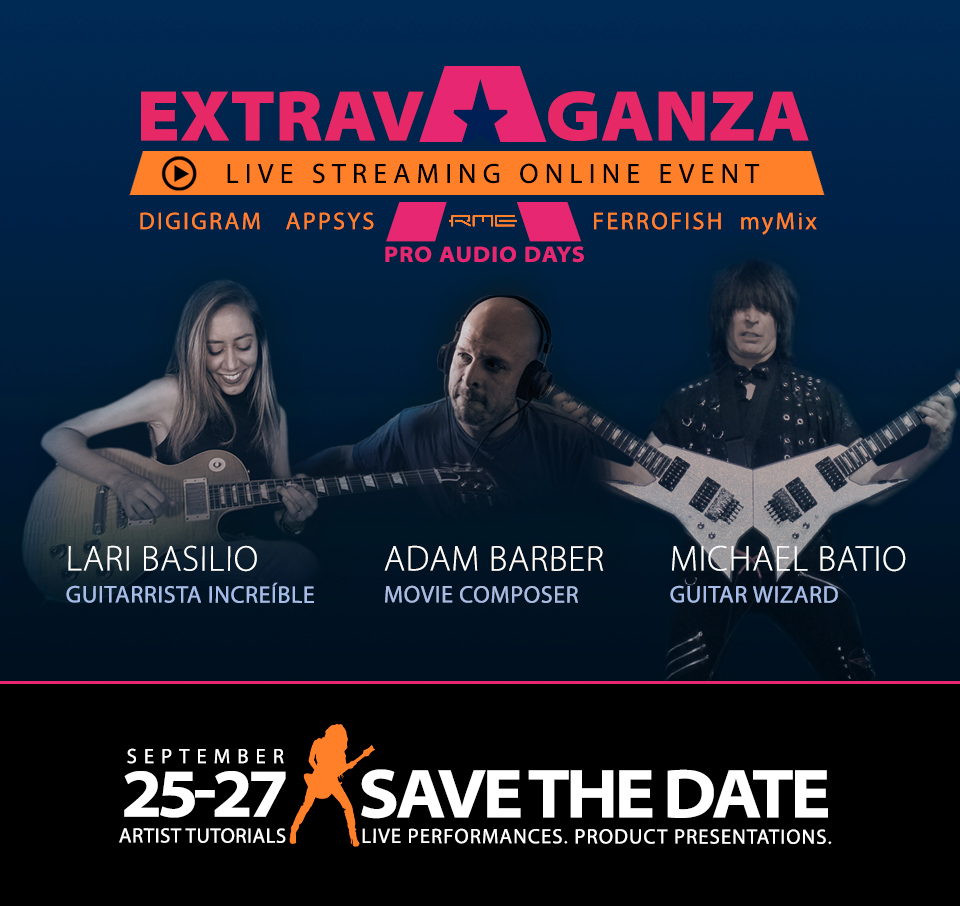 Though virtual, event attendees will receive a pristine listening experience for both product demos as well as artist performances thanks to Digigram's IQOYA Guest which will supply the audio feed for the entire event. IQOYA Guest offers uninterrupted, distortion-free audio connections, delivering a 20Hz to 20,000Hz frequency range, therefore allowing attendees to hear every detail of each product demonstration and artist performance.
A Virtual Learning Experience
​To be held daily from 3–7pm EST, each of three days will feature a specific 'theme' with Friday focusing on RME's Babyface Pro audio interface, Saturday on RME's Fireface family of audio interfaces and Sunday on the myMix personal monitoring and mixing system.
Product demos throughout the event will highlight some of RME's most popular solutions, such as the Babyface Pro FS USB audio interface and the ADI-2 FS AD/DA converter.
In addition to demos, the three-day event will also offer a wide range of educational sessions and Q&A's hosted by both the Synthax team as well as endorsing artist and Hollywood film composer Adam Barber who will discuss how he uses TotalMix to record movie soundtracks on his RME Fireface.
Sessions will also cover timely audio applications designed to help end-users navigate the changes in the audio landscape due to Covid-19. Two such sessions include improving recording, composing and live playing in the Covid-era with RME's low-latency interfaces as well as improving the video conferencing audio experience with Digigram's IP audio solutions.
First-Class Performances — in Your Living Room
​Each day, the 'Extravaganza' will also feature a host of artist performances, including those from singer/songwriter Janine, guitarist Lari Basilio and heavy metal guitarist Michael Batio. On Sunday, acclaimed keyboardist Jeff Lorber will perform live using the myMix mixing and monitoring system.
Win Your Dream Audio Setup
​During each day of the event, one lucky attendee will win a Babyface Pro FS and on Sunday, one winner will receive the Audio Networking Studio Grand Prize which features an RME Digigface Dante USB audio interface, the new RME AVB Tool Mic Preamp and a premium plug-in bundle.
For more information on the event and to attend, please visit: https://www.synthax.com/extravaganza-pro-audio-days-september-2020/
For more information on Synthax, visit: https://www.synthax.com/
About Synthax, Incorporated
​Synthax Inc. is the exclusive USA distributor for RME digital audio solutions, Digigram broadcast audio systems, Appsys digital audio tools, Ferrofish advanced audio applications, myMix personal monitoring systems and ALVA cableware. We supply a nationwide network of dealers with these products for professional audio, broadcast, music industry, commercial audio, theater, military and government applications. For additional information, visit the company online at http://www.synthax.com.

Jeff Touzeau Public Relations, Hummingbird Media, Inc.